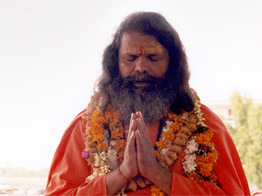 Affectionately known as Swamiji, is the disciple and successor of Paramhans Swami Madhavanandaji. In 1998 the spiritual community of the Maha Nirvani Akhara in India and the Shankaracharya (head of Hinduism), consecrated him as Mahamandaleshwar.
Whilst still in his teens, Swamiji recognised that the true joy in life can be found in the service of God's creation. He thus dedicated his life (as a Hindu monk) to easing the suffering of humanity and today he continues to be a tireless humanitarian worker, working around the globe for spiritual tolerance, social harmony, environmental protection and lasting world peace. Swamiji is also involved in many humanitarian-aid projects such as the Desert Rainwater Harvesting Initiative, the Rural Primary School and the Austria-Indian Hospital in the arid regions of Rajasthan, India.


One of Swamiji's greatest contributions to the world is the authentic system of Yoga he developed called 'Yoga in Daily Life' and since 1972 this system of health and lifestyle has spread throughout the world enhancing people's physical, mental, social and spiritual health. His book – Yoga in Daily Life the System - is translated into 8 languages.